Wednesday, August 18, 2004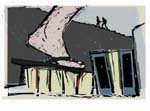 "I never thought I'd be going to a community college," Josh Raila laments. "I imagined that I would immediately get a bachelor's and a master's and a Ph.D."
After an automobile accident left Raila unable to finish his classes at a private university, though, community college is where Raila found himself. He thought negatively of community colleges before enrolling, but no longer.
"I stayed out of college for three years, and community college has helped me get back on track and allowed me to ease back into a scholastic environment," he explains. "Community college provides a non-judgmental, lower-pressure environment where you can ease back in without feeling like you are a lesser person."
Though Raila has confronted his stereotypes, many students still hold negative ideas of community colleges. Michael Abrient, a junior at Millsaps College, believes that the stereotypes about community colleges arise due to the easier workload. "I know a guy who got transferred to a community college in Louisiana and only has to write two essays a year," he notes. "At the time of his arrival, it was mandatory for his anthropology class to buy and utilize as a serious scholarly source a coloring book."
Easier workloads may cause some to discredit community colleges, but Jessica Mizell, who attended Hinds Community College, says that these stereotypes will diminish as people realize the benefits of temporarily attending a community college. "[Attending a community college] gives you a chance to earn a really great GPA. Classes aren't as difficult, and you can also work and live your life while going to college," she explains. "It's just easier to transition because you're already home and in a familiar place. It's especially great if you're not sure what you want to do with your life just yet." Mizell now attends Belhaven, but she appreciates the time she had to fine-tune her interests while at Hinds.
Other younger college students voice similar uncertainties. Deciding to transfer from Ole Miss, 19-year-old Patrick Addison enrolled in Holmes Community College. Addison plans to research schools and find the college that suits him while at Holmes. "My grades were fine at Ole Miss," he says. "I left because I wasn't satisfied with the atmosphere of the place. I couldn't fully decide on where I wanted to go next, so I decided to take a semester off and get some of those credits out of the way that most schools recommend, as well as make a little cash and save."
With local college tuitions increasing an average of 5 percent this year, the fiscal appeal of community colleges can't be denied. Many schools require the same introduction classes, and community colleges offer them at considerably cheaper prices. "They're cheap, cheap, cheap!" exclaims Natalie Robinson, who graduated from the University of Southern Mississippi after attending Hinds for two years. "Sometimes they're free, or you can actually get paid to go to them and use the money to save for trips to Europe, where you'll learn more than you ever will in school."
Though students attest to myriad benefits provided by community colleges, some admit that it has its drawbacks. "It's very easy to get lazy and not do very well," Mizell says. "The sad thing is that the easier college is, the more likely a person won't take advantage of that and do well."
For Robinson, the biggest downside of attending a community college first is transitioning into a larger college. "Once you arrive at the four-year, you may become very intimidated because you may feel like you're behind or you're part of some inside joke that you don't get," she says.
Transitioning into a four-year can also be hard when many of your credits don't transfer. Millsaps student Jason Curry attended Hinds Community College for five semesters, keeping in close contact with his counselors the entire time. "I was led to believe I would be graduating on time," he says. "Right before my fourth semester, I was informed that I didn't have enough elective credits to graduate on time. Those last two semesters were basically made up of time-filler classes. I simply needed the credits. I was told that a few of my credits would not transfer to Millsaps. I knew that by my fourth semester."
What Curry didn't know is that more than an entire semester's worth of credits would not transfer. After losing 14 credits, he laments, "I have been in college for three and a half years, and I am just now entering my junior year."
And what about the stereotypes? Many students who have attended community colleges feel like they are seen as inferior to students who enroll immediately in four-year universities. "I swear I'm not a loser!" Raila says, assuming he needs to defend himself from the stereotypes built up about community college students.
Robinson believes that these stereotypes are becoming more useless every day. "College is a fundamental building block that represents you in terms of your credentials. I don't think the negative stereotype will stick around long because people are beginning to understand more and more that application is far more instrumental than credentials," she explains.
"It's still viewed as a stepping stone," Raila, who will be studying creative writing in Memphis this fall, adds. "It was one for me, but for some people like myself, we aren't going to go anywhere unless we take a small step first. It has ended up being the most important step I've taken."