Wednesday, August 18, 2004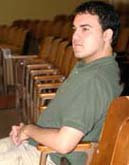 Mike Padilla, 20, a Millsaps College student—an actor, a director, a techie and an award-winning playwright—is involved in the theater at Millsaps on every possible level. Right now he's working backstage on "The Compleat Works of Wllm Shkspr: Abridged," which opens Aug. 25. Next up, he's directing Jean Anouilh's version of "Antigone." When I asked him when we could get together, he told me to "just stop by the theater any time, I'll be there pretty much all day." I finally caught up with him sitting at a makeup table in the dressing room at Millsaps, writing in his notebook. Surrounded by masks, wigs and witch hats, Padilla seemed entirely at home.
Padilla grew up in Olive Branch, just outside Memphis, where he first became interested in theater at a summer program. In high school, he wrote his first play, and before he knew it he was winning awards—"Kips" won first prize at the Southern Literary Festival, and "LIE," staged at Millsaps, was one of two plays from the southeastern district to be considered for national awards at the American College Theatre Festival. "The night 'LIE' opened was one of the most exciting nights of my life," he said. "Five hundred people came and saw something I had written. It was really exciting to see people as passionate about the production as I was."
Padilla isn't just fervent about his own writing—when I asked him about his favorite play he moved to the edge of his seat, gesturing emphatically. "That's an impossible question! Often my favorite play is the play I just read," he said. "Right now it's 'Amadeus' by Peter Schaffer."
Padilla believes in the theater community here and says it's only just getting warmed up. "The theater scene in Jackson's not as thriving as, say, Memphis or New Orleans, but it's growing," he said. "I think there are a lot more opportunities [for young playwrights] than there were even a few years ago. We have the only union theater in the state, and new opportunities are presenting themselves every day—like the Fondren workshop. ... Jackson could eventually have a community like Memphis."
It's hard to be a cynic around Padilla. "Theater in Jackson isn't just for people who've been doing it their whole lives—people have been coming out of the cracks lately," he said. "People who haven't previously been involved are becoming interested, going to shows."
Talking to Padilla, you can't help but believe it.