Wednesday, August 18, 2004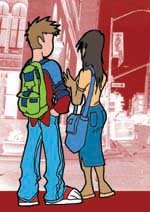 Forget Boston, it's too far away. Baton Rouge, too. Hell, forget Oxford and Starkville while you're at it. Home to five major colleges (Belhaven, Jackson State, Millsaps, Mississippi College and Tougaloo) and several junior colleges (Holmes, Hinds), the Jackson area is where you want to be as a student, relishing the best years of your life. Right?
Hailing from Baton Rouge, La., Delilah Whittington, 20, and a rising senior at Millsaps College, purses her lips equivocally. Her expression says it all. "Jackson is a horrible college town," she says. And without any further hesitation, she reveals her own list of grievances, as if rehearsed, about the pitfalls of college life in Jackson. And boy, are there plenty.
"Too much crime, hard to find good places to live, hardly any nightlife, no entertainment," she catalogs. "There's nothing to offer."
Whittington's complaints are hardly exclusive to Jackson, or any one college town in particular; in fact, some of the country's most prominent college towns face pockets of high crime, as well as not-so-sparkling nightlifes. Take New Haven, Conn., for example, home to Yale University, with an almost notorious record of crime. What is more disconcerting is that Whittington's complaints are not unusual. Fellow Millsaps junior Jason Jarin echoes several of Whittington's sentiments, spooning his own disappointments onto the plate: "It's not very diverse. There's not a good mix of things, like music." Their complaints are like clockwork.
Time to take a breather.
Spunk and Vibrancy
What exactly constitutes a college town, anyway? And a good one, at that? According to "College Town Issues" on the Web, the country's greatest college towns are "intellectual, cultural, and economic hubs, balancing tradition with new business growth." In this regard, the American college town is an incredibly unique phenomenon, and deeply ensconced in stereotypes galore, ranging from the pantheon of the hometown football team's demigods, to the row of slightly ramshackle houses fit enough for the fraternity kings of campus, to the glittering gala of bars, cafes, restaurants, bookstores and stationary shops that often line one of the town's main streets.
Sure, these evocative images are grounded in reality, creating an archetype for the suburban or rural college student's ideal environment. Still, the core of the American college town consists of, and depends upon, its young inhabitants, and for that reason alone, college towns are usually injected with a certain spunk and vibrancy not often seen in sleepier, small-town America.
But when it comes to urban college settings, the expectations are a little different. One of the prevalent concerns with college city life (or city life in general, for that matter) is security. With greater area, and greater populations, come higher stakes, and it would be foolish to dismiss that consideration when choosing to attend an urban college or university. But for a college student, and his/her wary parents, it is imperative for that city's general crime ratio to be staved off campus by heightened campus security and in a lot of instances, some sort of physical periphery. Most of Jackson's colleges, especially next-door neighbors Millsaps and Belhaven, don't have that periphery, allowing for sometimes unwanted interaction with the city.
"Anyone can just come in," says Whittington, citing the Millsaps neighborhood as one of the city's prime crime targets. And furthermore, she alludes to Jackson's colleges' lack of serious concern over campus crime. But Millsaps says on its Web site that the campus is patrolled by 12 full-time, trained security officers, and is surrounded by full perimeter fencing.
The good news is that Jackson crime is steadily falling. The city's major crime rates have decreased by an average of 25 percent for the first six months of 2004 over 2003. The highest decline was 34 percent in auto theft. The murder rate has remained steady (24 in the first six months of each year), and rape is down 15 percent. Major crime is its lowest in the city since 1988.
Getting Down and Out in Jackson
"Animal House" probably immortalized college party life best, as a sort of anything-goes bacchanalia, often limited to the confines of a college dorm room, or frat house, but sometimes stretching to outside venues, including bars, lounges, pubs, clubs and everything in between. Usually, college students depend upon a bright nightlife to buoy their overworked spirits, and concurrently, nightlife establishments depend upon students to bolster their business. In Jackson, those establishments are dispersed across the city, offering music, food, drink, and inevitably, good times. But that doesn't seem to cut it for many, like Whittington, who lament that there aren't many available alternatives to drinking and heavy partying, whether on-campus or off.
The situation only worsens after-hours, when the city seems to be haunted by the ghosts of 9-5 regulars in some areas, and brimming with liquor-thirsty college students in others. The lack of alternatives leads many, like Jarin, to spend much of their free time (gasp) studying. But all work and no play makes Jackson a dull town.
Perhaps the best way to go about experiencing nightlife in the city is to shop around and settle on a favorite spot, where the entire gang can congregate. For some students that spot is Headliners, where every Thursday is "College Night." Another popular spot for students has been Soulshine downtown, a pizza factory, music venue and bar all in one. "We try to reach Millsaps students and professors," says Soulshine general manager Will Wilson. "We get the MC crowd too, and some of the junior colleges, like Holmes and Hinds."
Soulshine has always retained a strong focus on catering to college students, which is evident by its central location, and its surroundings, including Martin's, WC Don's and Hal and Mal's. The popular strip has come to form a sort of nightlife nucleus.
Those altogether opposed to nightlife, afraid of the dark, lazy or with nothing to wear don't have to stray too far for some good old entertainment right in their dorm rooms. The city's video stores, including Video Library and Video Café, or chain rental stores Blockbuster and Hollywood Video, may do just the trick. Video Café, with roughly 25 percent college student clientele, tries its best to recognize their needs, with special student nights and specials, says Richard Weiss, general manager of Video Café, which, with its proximity to Belhaven and Millsaps, seems to be almost tailor-made for college students. And the neighborhood is tailor-made for Video Café, too. "We rely on these students. When they're gone, we feel the pinch."
This pinch is inevitably brought on by the summer months, when campuses across town are pretty desolate. Wilson faces the same problem at Soulshine, with its strong student base, and anxiously awaits fall. When students return to their lecture halls and live music downtown; the increase in business is certainly noticeable.
Unification Street
College students, like vampires, tend to be creatures of the night. But every once in a while, the demands of being away from home make for an equally important day-life. And practicality is key. A prime example of a business that takes students into account is Rainbow Whole Foods, the organic retreat in Fondren, whose student patrons are eligible for free membership, with which they receive a 10 percent discount on their purchases.
Unfortunately, though, some of Jackson's young residents don't feel catered to by the city's businesses. Weiss offers a succinct analysis: "Local businesses don't do enough. There's no unified approach."
A "unified approach" may be more vital than anyone imagined. With unification comes constant interaction, between college and city, or college and … college. Cathy Patterson, assistant to the vice provost of student affairs at Jackson State, asserts that interaction with the city is pivotal. For that reason, the university works closely with the Jackson Convention and Visitors Bureau and helps keep students informed about goings-on in the area. As for interaction with other area schools, she admits, "There's never enough interaction."
In a town like Hattiesburg, with its student landscape dominated by the University of Southern Mississippi, interaction between students is easier. Things get a little more complicated when there are multiple universities involved. With campuses scattered across the city as well as bordering towns and a hugely divided college populace, Jackson's unified college atmosphere is, well, almost non-existent, even between adjacent colleges Belhaven and Millsaps. Jarin vouches for that, adding that often, the only interaction between colleges is through sporting events.
Brain Drain
About 10 percent of Jackson's population consists of college students—not exactly staggering, but not shabby, either.
Sean Kochtitzky isn't impressed, however. "There's a large population of high school students, but that doesn't make Jackson a high school town," he says wryly. And he's right. In fact, there are more high school students than college students in Jackson. Do Jackson and the phrase "college town" even belong in the same sentence?
Kochtitzky, a sophomore and former Mississippi State student, exemplifies the classic dilemma faced by college recruiters all over—"brain drain." The Jackson native says Starkville's pervasive college atmosphere offered more in the way of co-curricular activities, such as musical concerts and screenings of independent movies. For reasons like these, and others, many high school seniors, or college seniors, look forward to leaving Jackson, or Mississippi altogether. Kochtitzky is transferring to the University of Southern Mississippi in the fall, to more closely pursue his major. Jackson just isn't in his line of sight.
Julia Luter, a freshman at University of Southern Mississippi, found no reason to stay in Jackson. "There is not much of an artistic scene. I looked at Belhaven. they made a little show of being artsy, but they are really not," she says. "For the most part Jackson doesn't facilitate a more discerning artist's creative needs."
Even those who stay in Jackson for school sometimes find it difficult to remain here after degrees are earned. Stacy Palmer, a 2003 graduate of Jackson State , finds it difficult to adjust to an environment that ostensibly provides plenty of prospects for those in the medical or legal fields, but for few others. Well, save for some. "Even with the Nissan plant, they said it would create new jobs, but those are mostly factory workers," she says. Hoping to remain in the corporate world, the former business major has considered moving to another city.
Much of Jackson's college population consists of youngsters already reared in the area, whose family and friends reside here, and who want to stay close to home. Jackson colleges have also remained active in recruiting students from the area by playing up their course opportunities, extracurricular activities and organizations, and even campus enhancement.
Jackson State's campus has undergone revamping in an effort to convey that the city's largest university can, in fact, offer a good quality of campus life. Sometimes, though, reconstructions are not enough. "I left Jackson for school because I spent 10 years growing up there, and it was time for a change of scenery," Vince Falconi, an Ole Miss sophomore, says. "I felt like I outgrew Jackson. I love coming home during breaks. But after a couple of weeks, I start to feel as if there's nothing to do, and I need to get out again."
Yea or Nay?
So there's crime, a limited nightlife, lack of unity, and inadequate post-graduation opportunities. Perhaps in recounting Jackson's shortcomings, those who are discontented often forget the universality of most of their complaints. But can it all really just be written off as human nature? As far as Scott Little, director of student leadership at Belhaven is concerned, Jackson deserves more credit than it often receives.
"'College town' now means a lot of different things," he says. "It's not Starkville, or Oxford, or Tuscaloosa, Alabama, you know. But there are more college students in metropolitan settings than in small towns. And there's a lot going on here collegiately. But it's not solely a college town."
Now there's a thought. Perhaps what makes Jackson a great college town and an awful one at the same time is that it is absolutely central—not just to higher education, but to many things. It's the state's most populous city, as well as its capital. It's the state's commercial core, cultural core, and most diverse city. It's also only a short drive from Memphis, New Orleans and other bigger cities, making it a well-positioned urban center of the Deep South. It is certainly fair to consider Jackson a college town, but only in the same way it can be considered a historical town, a governmental town or a blues town.
Think back to that philosophy lecture you semi-attended: It all comes down to the individual. Though Jackson's students agree that much more can be done to create a more college-friendly atmosphere within the city, they all stand behind a single, crucial premise. "Any college experience is what you make of it," says Whittington. "It's really up to the student," says Jarin. And with a hearty laugh, he adds, "But when I get my diploma, I'm outta here."
Previous Comments
ID

77754

Comment

Growing up in the Jackson area, our church once hosted a camp at Millsaps. I fell in love with the place, but when I found out how much it cost to actually go to school there, my fantasy of going there died in a flash. Having gone to MSU, I can definitely say that I have no regrets. But, I think I would've liked going to school in Jackson. That's not to say that it's a "college town", but it is a nice place. Starkville is hardly the definition of a great college town, although it has every opportunity to be one. Conflict between the city and the university have really kept the place down for the longest time. Fortunately, things have started to change for the better in the past few years. It's hard to believe that it's taken this long. The Fondren/Belhaven area of Jackson is primed for some serious improvements when it comes to nightlife. And, since Belhaven is home to TWO colleges, that would likely make things a little better on the students who would actually partake. Plus, with the re-opening of George Street Grocery, W.C. Don's and the handful of bars downtown (not to mention the impending impact that Farish Street will hopefully have), I think that Jackson nightlife in general has already improved substantially. To end my already too long rant, I wish the writer would've at least found someone who thought that Jackson was at least adequate as a college town and posted their thoughts. I'm sure that they can't ALL think the way these 3 or 4 people did.

Author

millhouse

Date

2004-08-18T21:16:58-06:00