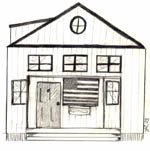 My flag is a little faded. It has been projecting out from its bracket on the front porch for years but is still in remarkably good shape for such an old piece of cloth. The colors aren't as vivid as they once were, but it doesn't have any holes and is wearing its age well. I hung the flag there because the brown log exterior of the house needed a little color. So I painted the front door and porch swing red, added a few green window frames and hung my flag from the shaded front porch. The flag gives dignity to the patriotic Christmas gingerbread house motif that is the end result of my misguided decorating. I spend far too many evenings sitting in my red swing watching the coordinating flag catch an occasional breeze. It is a beautiful flag. It inspires and reminds me of the remarkable achievements of a country that is occasionally as misguided as my decorating.
In the days following Sept. 11, I watched new flags fly out the doors of Wal-Mart, and followed CNN reports of towns across America suddenly shrouded in red, white and blue. My hometown put the last bricks in the new parkway just in time to drape American flags on the faux-Victorian lampposts. It seemed that the entire country suddenly celebrated America.
But I subscribe to Adlai Stevenson's conviction that "patriotism is not short, frenzied outbursts of emotion, but the tranquil and steady dedication of a lifetime." So I am proud that my flag is a little faded and my patriotism is durable but not blind. They aren't selling as many flags at Wal-Mart this year, but my flag still catches the occasional breeze on my shaded front porch.
Jackson native Susan Puckett lives in Clinton and is co-owner of Etiquette & Protocol Associates.
Previous Comments
ID

77066

Comment

I enjoyed it but I really enjoyed the picture drawn by my bestfriend, Jamea Richmond. When can we see more of Jamea's drawings?

Author

Marilyn Griffin

Date

2003-07-27T23:20:48-06:00
ID

77067

Comment

Hey Marilyn, thanks for writing. We agree: Jamea is amazing. She did the current cover, which folks are raving about, and we run several of her illustrations every issue. We just don't put all the art online, which is more about time to update the site and download times than anything else. But I would like to put more of the illustrations up than I'm doing, so we'll work on that. Thanks for writing!

Author

ladd

Date

2003-07-28T08:51:26-06:00
ID

77068

Comment

Hello I also wanted to know how a person that's not living in the state of Mississippi, can get a hold of the bi-weekly issues. Do you all mail out of state? Let me know, thanks.

Author

Marilyn Griffin

Date

2003-08-02T20:00:07-06:00
ID

77069

Comment

Hey Marilyn, thanks for writing from parts unknown! And I hope you've seen the current issue with Jamea's very cool pop-art cover. Yes, we sell subscriptions, basically for the price of first-class postage. It's $50 for a year's subscription; if you'd like to purchase one, just send a check to (with a note that you'd like it to start with Issue 20 in order to get Jamea's cover): Jackson Free Press PO Box 2047 Jackson, Miss. 39225 Thanks very much for your interest. Cheers, Donna

Author

ladd

Date

2003-08-02T20:29:02-06:00