Welcome to the JFP Ongoing General Events Page! Here you'll find a list of events in the categories of Community, Holiday, Kids, Food & Drink, Sports & Wellness, Stage & Screen, Literary & Signings, Concerts & Festivals, Creative Classes and Be the Change that take place for several weeks or months, or are ongoing for an extended period. To be listed on this page, please email events@jacksonfreepress.com.
Click here to see ongoing exhibit listings and here for a list of galleries.
Community
Events at Library Lounge (Fairview Inn, 734 Fairview St.). Call 601-948-3429.
• Young Professionals Night Tuesdays, 4-8 p.m. The extended happy hour includes complimentary appetizers starting at 6 p.m. Call for details. Free.
• Library Lounge Birthday Bash Second Wednesdays. If your birthday falls within the current month, present your ID to receive a free cocktail and birthday cake ($15 limit). Free.
• Live Entertainment/Grill Night Wednesdays, 6-9 p.m. Includes barbecued dishes and drink specials. No cover.
Mississippi Metaphysical Meetings at Unitarian Universalist Church of Jackson (4866 N. State St.). Email duann@duannkier.com unless indicated otherwise.
• Goddess Gathering First Wednesdays, 6:30-8 p.m. Monthly gathering for women and men to welcome the balancing energies of the divine feminine back into our lives and upon the planet. $5.
• New Vibrations Network Second Thursdays, 6:30-8 p.m. Includes connecting spiritual seekers, supporting conscious awareness and awakening, providing like minds a place to gather and network, and serving as a clearinghouse for events. Free, donations welcome; email newvibrations2003@hotmail.com.
• Practicum for Psychic Phenomena Third Thursdays, 6:30-8 p.m. Includes presentations, discussions, information on personal practice and group experiences. $5.
• Mississippi Meditations Fourth Thursdays, 6:30-8 p.m. Participate in focused meditations in order to increase the vibrational frequency of the Hospitality State and raising individual frequencies. $5.
Buddhist Chanting Sessions Ongoing, at 2823 Oxford Ave. in Fondren. Sessions are held weekly on Tuesdays. Free; call 662-983-0806; sgi-usa.org.
Live Trivia Ongoing, at The Pig & Pint (3139 N. State St.). Challenge Entertainment of Central Mississippi hosts the trivia competition with teams Mondays at 7:30 p.m. Free; like The Pig & Pint on Facebook.
Senior Social Service Program Ongoing, at Genesis and Light Center (4914 N. State St.). The day program for the elderly and those ages 21 and up with mild to moderate disabilities includes social, nutrition, nursing and rehabilitation services. Call 601-362-6736; genesisandlightcenter.com/senior.html.
New Foundation Toastmasters Club 702994 Meetings Mondays, 6:30 p.m., at Mississippi e-Center at Jackson State University (1230 Raymond Road), on the second floor. Become a member and learn effective communication techniques in a supportive and positive learning environment. Call 601-566-9741.
Metro Jackson Alcorn State University Alumni Meeting First Thursdays, at Jackson City Hall (219 S. President St.). Meetings are on first Thursdays excluding June and July. The organization's goals include to serve the communities within the metropolitan area, recruit students and provide financial support to Alcorn. Free; email metrojacksonalcornalumni@gmail.com
Kids
Stay tuned for updates!
Food & Drink
Plant-Based Potluck Second Saturdays, 1 p.m., at High Noon Cafe (Rainbow Plaza, 2807 Old Canton Road). Hosts include the Mississippi Vegan Group and Rainbow Natural Grocery Cooperative. Bring a plant-based dish to share. Free; find The Mississippi Vegan Group on Facebook.
Sports & Wellness
Coffee Club Run Mondays, 6 a.m., at Fusion Coffeehouse (1111A Highland Colony Parkway, Ridgeland). Fleet Feet Sports is the host. Participate in the weekly run for up to six miles, and enjoy a free cup of coffee and a chance to win a Fusion gift card. Free; call 601-899-9696; fleetfeetjackson.com.
Depression and Bipolar Support Group Meetings Mondays, 7:30 p.m., at Joyflow Yoga Studio (7048 Old Canton Road, Suite 2F, Ridgeland). Participants share experiences, personal feelings, information and strategies for living successfully with mood disorders. Free; email youarenotalone.jacksonms@gmail.com.
Galloway UMC Yoga Classes Mondays, noon-12:45 p.m. for people working downtown, and Thursdays, 6-7 p.m., at Galloway Memorial United Methodist Church (305 N. Congress St.), in the Foundery Building. Certified yoga instructor Rev. Elizabeth Henry is the facilitator. Dress comfortably. Borrow a yoga mat or bring your own. $10 suggested donation; call 601-353-9691; email ehenry@gallowayumc.org.
Weight Watchers Meetings Ongoing, at Weight Watchers Center (Lefleur's Gallery, 4800 Interstate 55 N., Suite 16B). Stop by and let Weight Watchers customize a plan just for you. offering military, senior citizen and student discounts. Registration fees apply for program signup; call 800-289-8446; wwofms.com. Meeting times: • Mondays at 9 a.m. and 5:30 p.m. • Tuesdays at noon (Express Meeting) and 5:30 p.m. • Wednesdays at 5 p.m. • Thursdays at 7:30 am (weigh-in), 8:30 a.m. (meeting) and 9 a.m.-1 p.m. • Fridays at noon • Saturdays at 9 a.m.
Stage & Screen
Stay tuned for updates!
Concerts & Festivals
Synergy Nights Second Saturdays, 9 p.m.-midnight, at Mediterranean Fish and Grill (6550 Old Canton Road). 99.7 FM WJMI DJ Maranda J hosts the open-mic and jazz event featuring live music from Tiger Rogers and the League of Jassmen. $10, $5 open-mic participants; like Synergy Nights on Facebook; follow @synergynights on Instagram.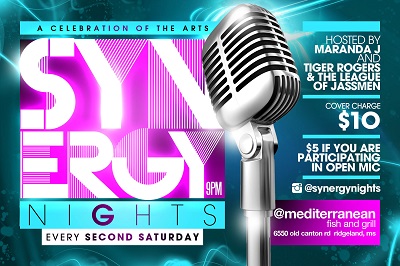 Literary & Signings
Lemuria Story Time Saturdays, 11 a.m., at Lemuria Books (Banner Hall, 4465 Interstate 55 N., Suite 202). Children enjoy a story and make a related craft. Call 601-366-7619 for the book title; lemuriabooks.com.
Story Time, at Highland Village (4500 Interstate 55 N.), at Nursery Rhymes in the plaza. Sessions are Wednesdays at 10:30 a.m. Call 601-982-5861 for the book title; highlandvillagems.com.
Creative Classes
SEW Sewing Every Wednesday Wednesdays, 9:30 a.m., at Pearl Street AME Church (2519 Robinson St.). The community quilting group meetings are open to the public and for all ages. Thread, fabric and sewing machines available. Free, donations welcome; find SEW Sewing Every Wednesday on Facebook.
Be the Change
Stay tuned for updates!