Need something to get your dad for Father's Day? Why not try shopping local? Here are some ideas.

Thabi Moyo isn't just the production and workforce manager for the Mississippi Film Office. She's also a photographer, videographer and jewelry designer. Here are her top 10 favorite local places in Jackson.

Every year, millions of people embrace the journey that is a road trip. You never know what can happen on the road. So, making a plan can make a huge difference. Here are some of the tips.

Resin might be a tricky medium to master, but once you figure out how to do it, you can use it to make so many things. While I have created many shapes with resin, one of my personal favorites has been LEGO necklaces.

One of the best ways to show progress in running is to do some kind of race, whether that's a 5K or a full marathon, and everything in between.
The Mississippi Agriculture and Forestry Museum will host the Mississippi Pickle Fest on Saturday, June 15, from 10 a.m. to 3 p.m.

With me teaching a furniture-making class at Millsaps College this semester, spending a good portion of last summer renovating my kitchen and my husband giving me a record player for Christmas, I've centered my Local List to local suppliers for fellow makers and record lovers. Here are a few of my favorites.

Though Signature Hair Lounge specializes in weaves, Fran Alexander is knowledgeable about all types of hair. The Jackson Free Press recently talked to her over the phone about caring for natural hair.

Melvin Robinson is a local podcaster, videographer and entrepreneur that you can always find out and about, whether shooting something for 242 Creative or just hanging out at Offbeat. Here are his top nine favorite places in Jackson.

I wanted to give my bedroom a facelift for the new year, and I decided the perfect start would be a glam new headboard. The whole thing came together for under $50 (not including tools), and I am in love with the final result.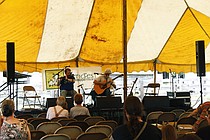 Fireworks light the night sky at the 2016 Celebrate America Balloon Glow.